Internationale Aktivitäten
call for proposals 1.Mai 2014
13th daCi World Congress in Copenhagen
July 5th-10th 2015
Dance and the Child International will be celebrating the 13th World Congress in Copenhagen July 5th-10th 2015.
Please go to www.daCi2015.dk
You will find the link to the submission form under the heading "Call for contributions."
Deadline for papers, panels, project dialogues, workshops, lecture sharings, posters/installations is May 1st 2014.
Deadline for Young People's Performances and Twin Labs is August 1st 2014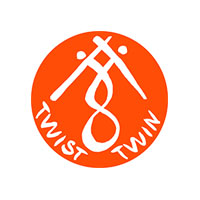 2014 World Dance Alliance Global Summit
Contemporising the Past: Envisaging the Future
6–11 July 2014, Angers, France
Call for Submissions now open!
Deadline 15 November 2013
On‐line submissions at http://www.wda2014.org/
daCiinprint May 2013 is now available on line.
You can access the newsletter using the website www.daci.org.
ATTENTION, THIS IS A RECTIFICATION concerning the latest newsletter. Mary-Elizabeth Manley asked me to let you know that the pictures belonging to her article: 'OUR DREAMS MATTER TOO' were from the following people:
the photo collages that accompany the article on the Across Borders grant were all created by 2 Attawapiskat educator/artists Jackie Hookimaw and Norbert Witt. Jackie did the photography and then, together Norbert and Jackie did the collages.
Taiwan
12. Internationale daCi Konferenz 2012
"Dance, Young People and Change"
am 14. bis 20. Juli 2012
an der TNUA School of Dance in Taipei, Taiwan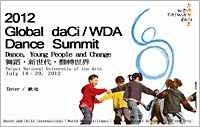 USA – Deutschland
seit März 2008 "Blueprint Arts" ein Forschungsprojekt zu den Standards für Tanz-in-Schulen-Konzepte in NY, im Austausch mit Künstlern, Schulen und dem Department of Education in New York City und Deutschland
Eine internationale Diskussion dazu ist im Forum von www.daci.org (siehe Forum, Login erforderlich) angeregt worden.
"Twinning is Winning" – unter dieser Überschrift unterstützen die Niederlande mit ihrer etablierten daCi-Organisation ein Land wie Indien, in dem daCi noch keine Rolle spielt. Dabei geht es neben der Etablierung eines nationalen daCi-Netzwerkes auch um finanzielle Hilfe für indische Kinder und Jugendliche, die ihnen eine Teilnahme an internationalen Konferenzen ermöglicht, wie an jener 2009 in Jamaica.
10. INTERNATIONALES JUGENDFESTIVAL 2006 IN DEN HAAG, NIEDERLANDE
Vom 2. bis 8. Juli 2006 trafen sich Tanzinteressierte aus vielen Ländern im niederländischen Den Haag. Mit dem Motto "Colouring Senses" war das Treffen überschrieben, und es widmete sich den drei Dimensionen des tanzenden Kindes: Moving, Creating, Observing. Wie bei allen internationalen Festivals von daCi, gab es auch hier ein ausgewogenes Programm aus praktischen Elementen wie Workshops, Lecture Demonstrations und Performances sowie theoretische Anteile wie Arbeitskreise, Vorträge und Diskussionen zum Thema der Konferenz.